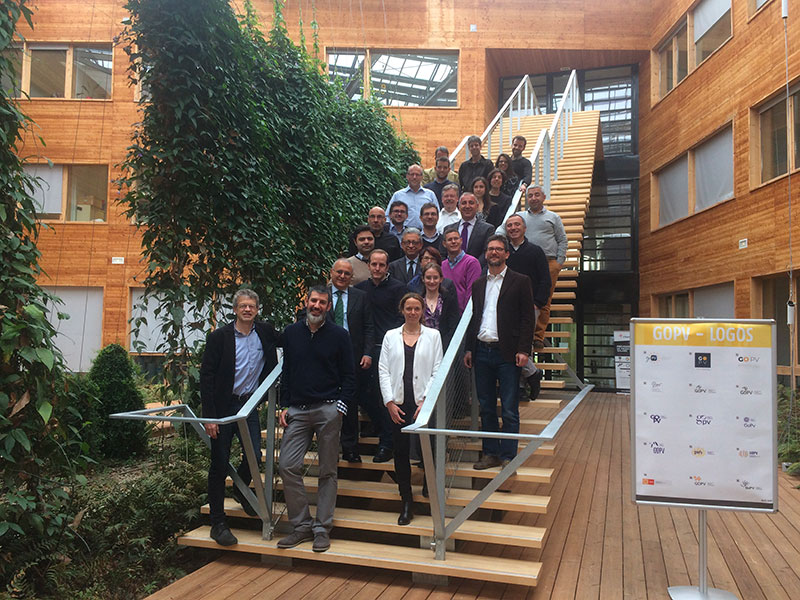 Fast & Furious kick-off of GOPV Project
The European research project Global Optimization of integrated PhotoVoltaics system for low cost electricity (GOPV) has officially been launched on 1rst of April 2018. GOPV has taken off at top speed starting by its kick-off meeting on 10th and 11th April 2018. The 12 racing project partners have gathered at INES, in France, to meet up face-to-face for the first time and get the 9 work packages going. During the two-day kick-off, partners have decided upon the countdown schedule, the practicalities and task allocation for the next 4 years of the project. They have also crown champion the logo herewith to represent GOPV for the next 4 years.
GOPV is thus on the fast track to get European players back in the world solar game with the development of innovative low-cost technologies. Focusing on more efficient, more cost-effective, more reliable and thus cheaper components, it aims at increasing the solar technology efficiency while decreasing the installation and maintenance costs.
The race should end up in a demonstrator in Spain recording costs for PV electricity of 0,02€/kWh for South Europe and an extended component lifespan up to 35 years. Besides its technological aspects, GOPV is setting up training and dissemination actions through workshops and forums dedicated to the broader field of students, professionals and researchers.